5: Kei hea au? – Where am I?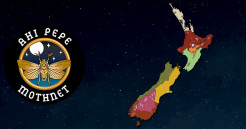 Geography, maps, stories. Different moths occur in different places so we have split Aotearoa up into eight regions based on the moths distributions. Ngā Puka Whakamārama o te Pepe Nui are available for all of Aotearoa. Talk about why different moths are found in different places.
The names of the regions are taken from parts of the Waka and parts of the Whai – Stingray. Talk about why this might be and the layers of meaning behind the names of the regions. Each region has its own Name; Colour and Moth.
Want to know more about Geography or Biogeography? Ask Ahi Pepe MothNet team member Dr Ralf Ohlemüller (University of Otago).
Culture; Language; Geography; Ecology